Contemporary people

Arranged alphabetically
A. B. Stoddard
Political analyst
Alexandra Brandon Stoddard is an associate editor of The Hill, a regular contributor to The Hill's Pundits Blog and a regular guest giving political commentary on MSNBC, Fox News, CNN, PBS, HBO, BBC and Court TV.
Her father is Brandon Stoddard who was the president of ABC Productions, ABC Motion Pictures, ABC Entertainment and a partner in Ancient Mariner Films in Los Angeles. Her mother is Alexandra Stoddard, a prolific author, interior designer and lifestyle philosopher.
Text from Wikipedia, the free encyclopedia. Click here to read the complete page.
Brandon Stoddard
Television and film executive/producer
Brandon Stoddard was involved with the television industry at ABC for 25 years, becoming president of ABC Productions and eventually president of ABC Entertainment. Starting in Daytime Programs, he was responsible for the Award-winning ABC Afterschool Specials. Theatrical motion pictures released under his tenure as president of ABC Motion Pictures included Young Doctors in Love, Silkwood and Prizzi's Honor. He is best known for participating in development of the ABC Novel for Television, with such productions as Roots, The Winds of War, The Thorn Birds and the 30-hour War and Remembrance. Numerous successful prime-time series were created under his direction, and he was responsible for the production of such bold programming as Twin Peaks, Max Headroom and Slap Maxwell. His presentation of QB VII in 1974 garnered him the title "father of the miniseries"
Text from Faculty page; USC School of Cinema Arts. Click here to read the complete page.
Picture from Sun Valley Writer's Conference web site. Click here to visit the page.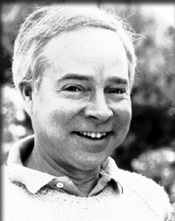 Tim Stoddard
Major League baseball player
Timothy Paul Stoddard (born January 24, 1953 in East Chicago, Indiana) is a former Major League Baseball pitcher. He is one of only two known men to have played in both a World Series and an NCAA basketball national championship game.
A right-handed pitcher, Stoddard pitched for the Chicago White Sox (1975), Baltimore Orioles (1978-83), Chicago Cubs (1984), San Diego Padres (1985-86), New York Yankees (1986-88) and Cleveland Indians (1989). Currently, he is the pitching coach for the baseball team at Northwestern University.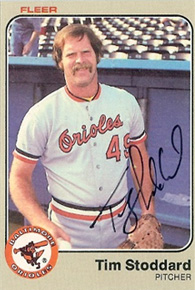 Coming soon...
Stoddard Hollow String Band
Stoddard Brothers (music)
Alexandra Stoddard
Bob Stoddard (baseball)
Christopher Stoddard (writer)
Gale Stoddard (music)
George Stoddard (writer)
Grant Stoddard (writer)
Jack Stoddard (NY Rangers)
James Stoddard (writer)
Jeffery Stoddard (writer)
Lolly Stoddard (writer)
Malcolm Stoddard (writer)
Samuel Stoddard (writer)
Sandol Stoddard (writer)