Fictional characters
The Man Who Shot Liberty Valance
Movie
The Man Who Shot Liberty Valance is a 1962 Western movie directed by John Ford and starring James Stewart and John Wayne.
Stewart plays Ransom Stoddard, an attorney who believes in law and order, but refuses to carry a gun. After graduating from law school, he heads out west to set up a practice in the town of Shinbone.
Liberty Valance (Lee Marvin) challenges Stoddard to a gunfight. He and his men continue to terrorize the town. He nearly beats Peabody to death after the publication of an unflattering article in the newspaper. In response, Stoddard decides that he must go through with the Valance gunfight. Unfortunately, Stoddard is completely unskilled with a gun and no match for the infamous gunfighter. But, when the shootout occurs, Stoddard miraculously kills Valance, a shock to everyone.
Stoddard becomes legendary as "the man who shot Liberty Valance," a hero. At a convention to pick the delegate to Washington, D.C. to lobby for statehood, Stoddard is nominated but he has guilt pangs about being a killer and capitalizing on an act of violence. It is only then that Doniphon (John Wayne), who has also turned up for the convention, tells him the "true" story: Doniphon, ... sure that Valance would kill Stoddard, had stood in a nearby side-street and shot Valance with a rifle.
Text excerpted from Wikipedia, the free encyclopedia. Click here to read the complete page.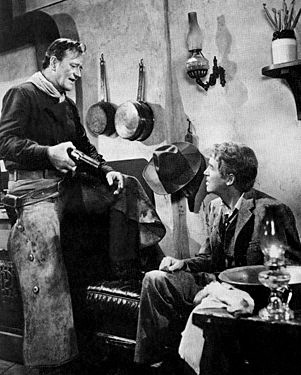 Dark Shadows
Television show (soap opera)
Dark Shadows was a Gothic soap opera that originally aired weekdays on the ABC television network, from June 27, 1966 to April 2, 1971. It was considered daring (and unprecedented in daytime television) when ghosts were introduced about six months after it began.
The series became hugely popular when, a year into its run, vampire Barnabas Collins, played by Jonathan Frid, appeared. In addition to vampires, Dark Shadows featured werewolves, ghosts, zombies, man-made monsters, witches, warlocks, time travel (both into the past and into the future), and a parallel universe.
Elizabeth Collins Stoddard, played by Joan Bennett, and her daughter Carolyn Stoddard (Nancy Barrett) were regular characters on the show for its entire run. Elizabeth's husband Paul Stoddard, who according to the storyline had been missing for 18 years, made a brief reappearance before being killed off.
Director Tim Burton and actor Johnny Depp are rumored to be working on a Dark Shadows movie to be released in 2010.
Text from Wikipedia, the free encyclopedia. Click here to read the complete page.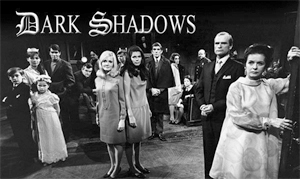 Three Letters From Teddy
Short story/Urban legend
This is the story of Teddy Stoddard, an unkempt, unfocused, poor student not much liked by his 5th grade teacher. At Christmas, he gives his her a gift of cheap perfume and a broken bracelet and tells her that they belonged to his recently deceased mother. This realization changes her attitude and behavior forever. She becomes a better teacher, and young Teddy begins to blossom. The story relates letters he sent his old teacher over the years recording life milestones, up to his becoming a doctor.
Although this story has been widely distributed as an email urban legend and other tellings, it was originally a fiction short story published by Elizabeth Ballard in Home Life magazine in 1976. It can also be found in her book Three Letters From Teddy.
This story is discussed on Snopes.com, the urban legend website. Click here to read the complete article.
Coming soon...
Hopton Stoddard, Stoddard temple, Ayn Rand, Fountainhead
Cole Stoddard & Associates, short stories by author M. B. Ogan
Detective Mark Stoddard, mystery books by author J.D. Crayne
Stoddard House, Stoddard Park, Pickford, IL (fictional history)
Character in Shadow of Death, author William Tapply
Stoddard Hall, in The Dragon And The George by Gordon Dickson
Beau Stoddard, character in Detonator with Elizabeth Berkley
Scott Stoddard, character in Grand Prix the Movie w/James Garner
Jack Stoddard, character in Agatha Christie's The Mystery of Hunter's Lodge